Trending thought leaders today dismiss realization as something non-important, yet so many firms still use the metric as central to their firm's management and compensation. In this 60-minute MAPCast led by a nationally recognized consultant, Guy Gage of PartnersCoach and Alan Alexander, Chief Operating Officer of Jackson Thornton, participants will hear about an approach that uses realization differently. Instead of it being a measure of ...
More Information
April 29 - July 30, 2021
SAVE THESE DATES: 4/29/2021- 7/30/2021 The age of technology in accounting has truly arrived and impacts every aspect of an accounting firm. Don't miss this Technology Series that will include SIX educational 60-minute sessions presented by Roman Kepczyk, CPA.CITP, CGMA, PAFM, Director of Firm Technology Strategy with Right Networks. Topics include Your Tax Season Debrief, Strategic Technology Outlook, Remote Work / Collaboration, CAAS ...
More Information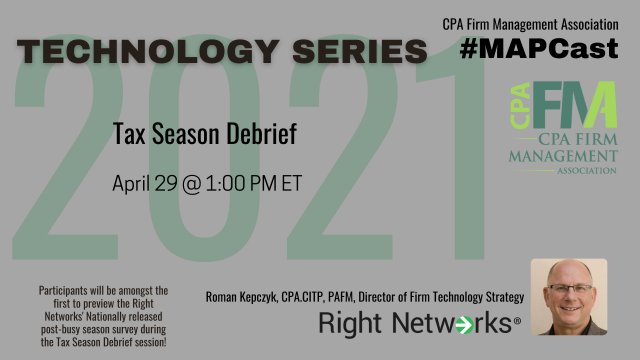 April 29, 2021
SAVE THE DATE! April 29, 2021 1:00 PM - 2:00 PM EST Join us for this 60-minute MAPCast to learn more about optimizing your firm's tax production processes and be amongst the first to preview the Right Networks' Nationally released post-busy season survey during the session! Presented by Roman Kepczyk, CPA.CITP, CGMA, PAFM, Director of Firm Technology Strategy, Right Networks.
More Information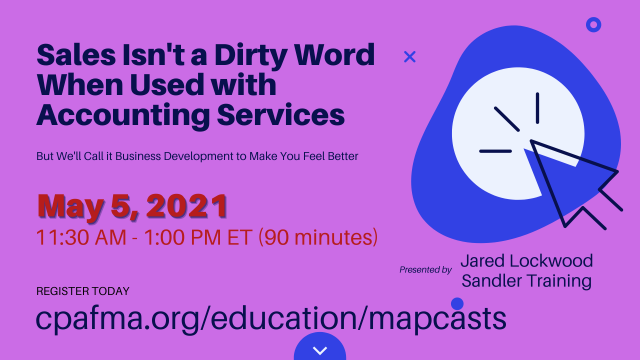 May 5, 2021
This 90-minute MAPCast for those responsible for the management of a CPA firm and for the continued development of business for the firm will provide insights as to why "sales" should not be seen as a dirty word when used in the accounting profession.
More Information
Many of us have probably heard the term "Cadillac heath insurance plan." which is basically a plan with luxurious benefit levels and/or high premiums. Many public accounting firms offer such plans to their employees and have done so for many years. However, these plans are probably a little less luxurious than they used to be 20 years ago because of adjustments over the last decade due to double-digit percent increases that have ...