Field of Study: Business Management and Organization Program Level: Basic CPE Credit: 1 Credit Hour Program Description In this interactive webinar, attendees will learn why a document management system is imperative today, especially in a remote work environment. Guest speakers Jeff Rozovic and Kevin Sharma will discuss how firms that choose to invest in an document management system provide themselves with the foundation to ...
More Information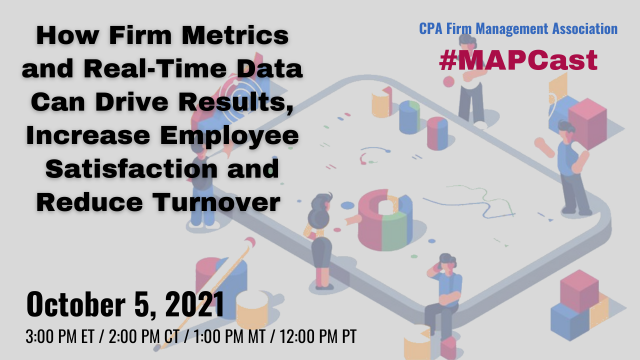 October 5, 2021
Are you feeling challenged by increased staff turnover and high employee burnout due to Covid-19? You're not alone. Many firms are facing unprecedented challenges during these trying times, and need real time data on key employee/firm metrics to drive results, increase employee satisfaction, and grow employee retention. If you are interested in how you can lighten your workload, and create a more productive and efficient workspace, please join ...
More Information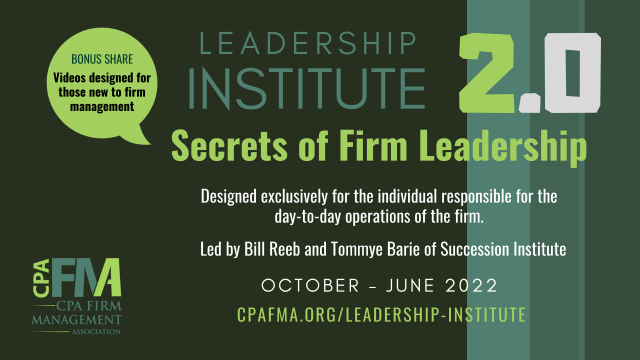 October 7, 2021 - June 20, 2022
Firm managers are called to be leaders – by the best traditions of the accounting profession, by standards of professional responsibility, and by the expectations of the communities in which they work and live. And yet, until recently, there has been little attention given to leadership training for those responsible for the day-to-day management of CPA firms as they enter the profession and begin to develop the skills necessary for their ...
More Information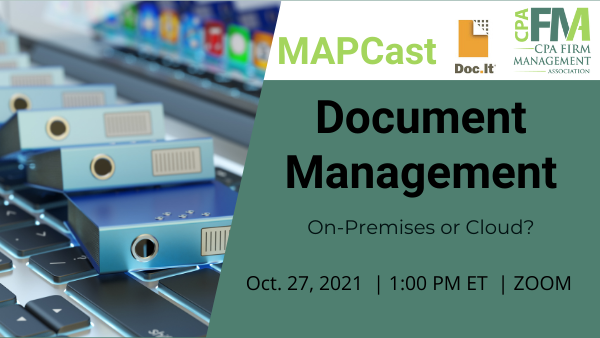 October 27, 2021
Field of Study: Information Technology Program Level: Basic CPE Credit: 1 Credit Hour Program Description: There is much to consider when choosing the best software hosting method for your firm, as there is no "one size fits all" solution. While one firm may be best suited for an on-premises solution, another firm may find a cloud or hybrid solution works best. In this session, guest speakers Don Emery and Kevin Sharma will explore ...
More Information
Many of us have probably heard the term "Cadillac heath insurance plan." which is basically a plan with luxurious benefit levels and/or high premiums. Many public accounting firms offer such plans to their employees and have done so for many years. However, these plans are probably a little less luxurious than they used to be 20 years ago because of adjustments over the last decade due to double-digit percent increases that have ...