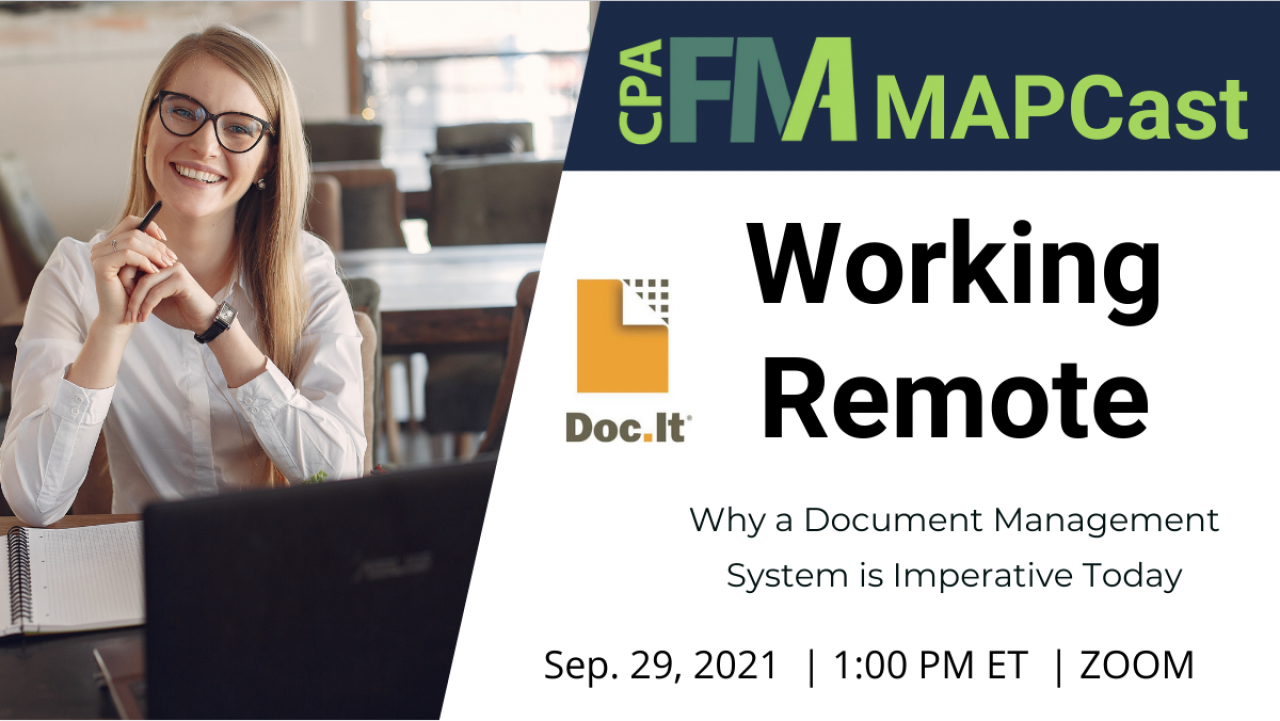 Working Remote: Why a Document Management System is Imperative Today
September 29, 2021 1:00pm - 2:00pm
Location Information:
Zoom

Cost(s): $25.00 CPAFMA Member / $40.00 Non-Member / $0.00 PAFM
Field of Study: Business Management and Organization
Program Level: Basic
CPE Credit: 1 Credit Hour
Program Description
In this interactive webinar, attendees will learn why a document management system is imperative today, especially in a remote work environment. Guest speakers Jeff Rozovic and Kevin Sharma will discuss how firms that choose to invest in an document management system provide themselves with the foundation to help streamline workflows and increase productivity by enabling enhanced security, improved regulatory compliance, easy document retrieval, and more. Participants will also learn how the Rozovics Group optimized their document management processes after implementing Doc.It.
Learning Objectives:
Learn why a document management system becomes even more imperative with a remote workforce

Understand how a document management system results in a "one-firm" concept

Hear about Jeff Rozovic's transition from Filecabinet CS to Doc.It

Learn how Doc.It allows firms to be more efficient and profitable
About the Speakers:
Jeff Rozovics is a partner at Rozovics Group, P.C. He has been with the firm since 1997 and became partner in January of 2002. He works with organizations to establish a plan and ensure financial goals and objectives are being met. Rozovics Group focuses on tax, tax planning, traditional accounting services, and consulting.
Kevin Sharma is the Director of Sales and Marketing at Doc.It. Since 2012, he has helped hundreds of accounting firms improve efficiency, enhance data security, and elevate their client service with Doc.It's suite of document management, workflow, PDF Editor, and web portal tools.