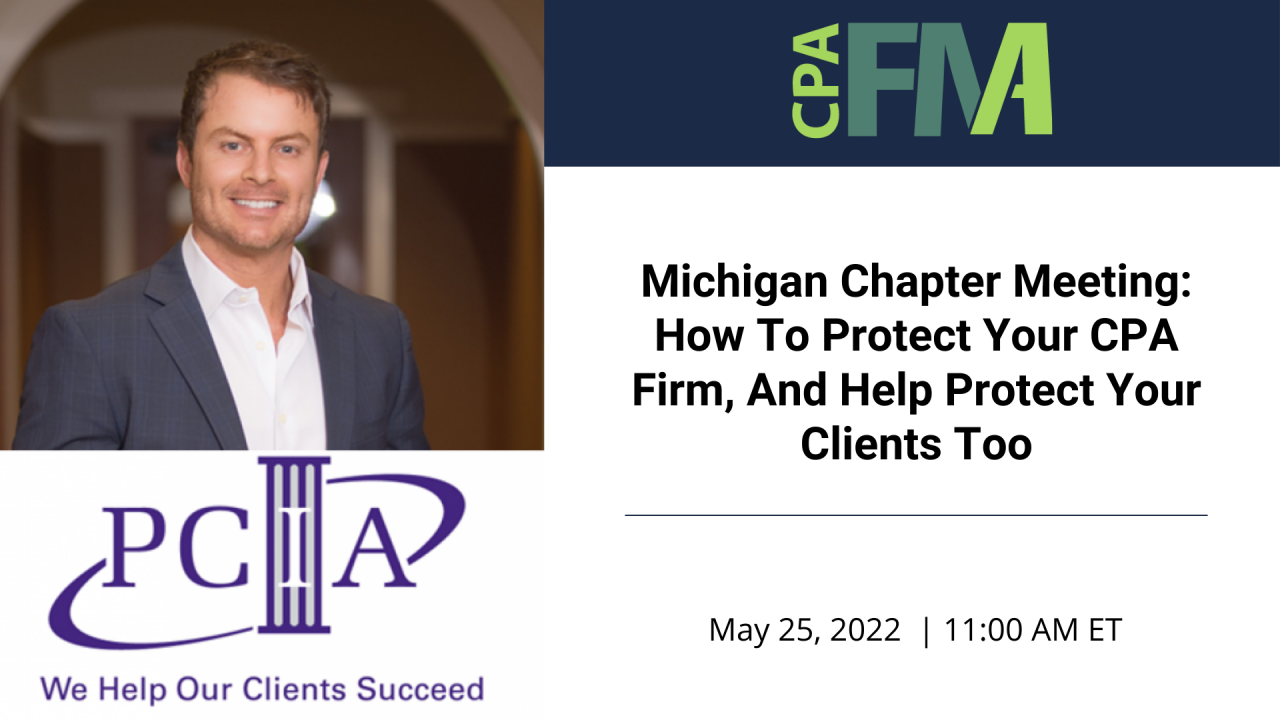 Michigan Chapter Meeting: How To Protect Your CPA Firm, And Help Protect Your Clients Too
May 25, 2022 11:00am - 3:00pm ET
Location Information:
PCIA
1127 S. Old Hwy 23
Brighton, MI 48114
US

Cost(s): $25.00ea CPAFMA Member / $35.00ea Non-Member
About the Speaker:
As PCIA's President and CEO, Mike has established a reputation as a hands-on, problem-solver for his clients' insurance and risk management needs, and he assists in training their staff to reduce their firm's professional services risks. His expertise includes risk evaluation and insurance placement, contract reviews and negotiations, assistance with mergers and acquisitions and international project pursuits.
Mike is very active in the professional associations of PCIA's clients. He serves on numerous committees, chairing committees, and donates much personal time to better PCIA's clients' industries. Mike serves each year on the AIA Michigan's annual Mid-Summer Conference Committee, previously served as a past secretary and trustee for the Michigan Architectural Foundation (MAF), and served on ACEC of Michigan's annual Engineering and Surveying Excellence Award Gala committee, including co-hosting the event for several years. He frequently contributes editorials on risk management issues and regularly presents at professional development events. Mike served a two-year term on the Design Professionals Risk Control Group (DPRCG) board of directors and exclusive risk management group created by and for high-quality architect and engineering firms. Mike is also a past President of PLAN, the Professional Liability Agents' Network consisting of national and international insurance professionals serving the AEC industry. Mike is a member of Vistage Michigan, part of Vistage Worldwide, Inc., a peer-to-peer membership organization for CEOs, business owners, and executives of small to mid-size businesses.
Mike began his insurance career with PCIA in 1990 as a summer intern. A graduate of Olivet College, he received his Bachelor of Arts degree in business and insurance. While at Olivet, he studied risk management and insurance techniques, specializing in commercial property and liability coverage.
Mike resides in Brighton, Michigan, with his wife, Allison, and they have two daughters.