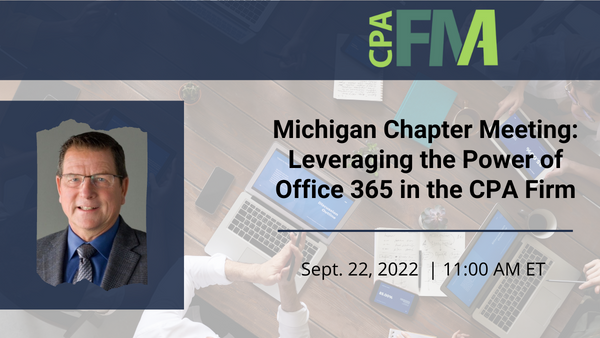 Michigan Chapter Meeting: John Higgins – Leveraging the Power of Office 365 in the CPA Firm
September 22, 2022 11:00am - 3:00pm ET
Location Information:
Fenner, Melstrom & Dooling, PLC
355 S. Old Woodward
Birmingham, MI 48009
United States

Cost(s): $25.00 CPAFMA Member / $50.00 Non-Member
Register Now
Leveraging the Power of Office 365 in the CPA Firm:
John will provide an interactive presentation on how CPA firms can take full advantage of Office 365. Your firm is likely already investing in Office 365. This presentation will show you how to maximize your ROI. We will review using Teams and SharePoint for a complete communication, collaboration and knowledge sharing platform, how to use the Planner app to manage tax, audit and client accounting engagements, how to use OneNote to organize and document your day to day activities, using the Bookings app to streamline your appointment setting process and more. If you already have Office 365, this session will be well worth the investment of your time. If do not currently use Office 365, this will provide you the opportunity to assess the full value of deploying it.
DETAILED BIOGRAPHY
John is the co-founder of CPA Crossings, LLC, established in 2001. John serves as a strategic technology advisor to accounting firms and other business organizations on how to leverage the power of cloud-based technology tools. There has never been a more turbulent time in the evolution of business technology. John helps business leaders to understand the nature of rapidly evolving technologies and how to harness them to remain ahead of the curve competitively and avoid the risk of obsolete business processes.
John shares his expertise as a nationally recognized speaker on business technology at educational conferences, through online webcasts and strategic planning retreats.
John delivers over 100 presentations annually on a wide range of accounting profession related technology topics. Some of the current popular topics include:
Blockchain Technology
Big Data and Data Analytics
Communicate, collaborate, and share knowledge with Office 365 and Teams
KPI Dashboards: The New Financial Reporting Model
Blockchain Technology
Artificial intelligence (AI) and robotic process automation (RPA)
How to Build a Virtual Accounting Practice
Some of John's key accomplishments include:
AICPA Business & Industry CPA Hall of Fame inductee
Top 25 Thought Leader award by the CPA Practice Advisor (2011 – 2021)
Past Chair of the Michigan Association of CPAs
Michigan Association of CPAs Innovative User of Technology award
Former national technology consulting partner with BDO, LLP
Nationally recognized speaker on CPA technology
Co-author of 10 Steps to a Digital Practice in the Cloud, published by the AICPA