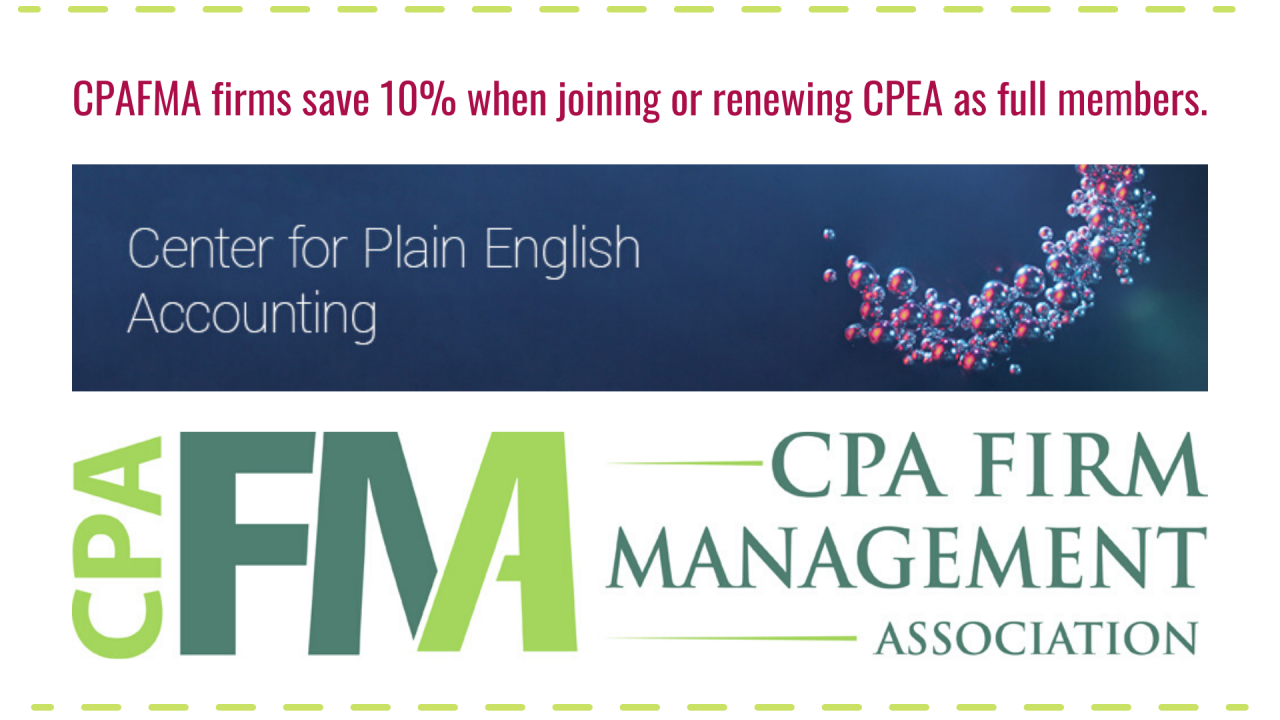 Announcement of Center for Plain English Accounting Services
CPA Firm Management Association has partnered with the AICPA to enhance our firms' A&A practices, by negotiating a special discounted fee for membership in the Center for Plain English Accounting (CPEA).
The CPEA is the AICPA's national A&A resource center. The CPEA's team of experts assist members with accounting, auditing, attest, review, and compilation needs by sharing technical advice and guidance. The CPEA's straight-forward and clear style of writing and speaking gives practitioners the opportunity to understand the applicability of the professional literature when preparing financial statements and when auditing, reviewing, and compiling those financial statements.
CPEA members have access to a first-class team of A&A experts. Through responses to technical inquiries, reports, alerts, webcasts, and training sessions, the CPEA's team of experts provide A&A support by describing "how to do" what you "need to do" in implementing the authoritative literature.
More than ever, practitioners are trying to understand the current standard setting environment, interpret complex accounting and auditing rules, assess the potential impact of proposed standards, and trying to figure out how to implement standards. And, very often, they do not have access to a national office and have nowhere to turn for help or guidance. The CPEA offers that help! Through CPEA membership, practitioners gain national office resources without a national office.
Members receive the following specific benefits:
Written responses to written technical inquiries.
Emailed monthly technical reports covering a variety of A&A topics. The reports include advisories about new pronouncements, explanations of difficult concepts, and specific guidance on implementation issues that practitioners likely can expect to encounter when working with clients.
Access to webcasts on hot A&A issues qualifying for a total of 16 NASBA-certified CPE credits annually.

Full member firms receive one free participant and only $35 per additional participant to each 2-hour audio only webcast
Only $75 per participant to the annual 4-hour video webcast offered in December (no free participants)

Access to an annual 8-hour (split between two days) video webcast offered in September, qualifying for 8 hours of NASBA-certified CPE credits (in addition to the 16 credits noted above), at the nominal fee of $150 per participant (no free participants).
Emailed alerts and special reports covering recently issued guidance and hot topics.
Access to superior in-depth A&A training sessions, qualifying for CPE credit, in the convenience of your office setting (additional fees apply).
Online access to a valuable and ever-growing library of guidance and technical reports.
Access to FASB ASC 606 resources
Opportunity to Share CPEA Content with clients through social media (additional fees apply).
The discounted price for annual full membership is $1,530, which provides CPEA access and services to all members of the firm. To obtain more information and to join the CPEA, go to www.aicpa.org/cpea. In the association field of the application, put CPAFMA and the staff will verify your CPAFMA membership and apply the discount. If you are already a member of CPEA, be sure to mention your CPAFMA membership when you renew to receive the 10% discount.
If you have any questions related to the CPEA, please contact Susanne Richards at (334) 260-2326 or by email at Susanne.richards@aicpa-cima.com or cpea@aicpa.org.