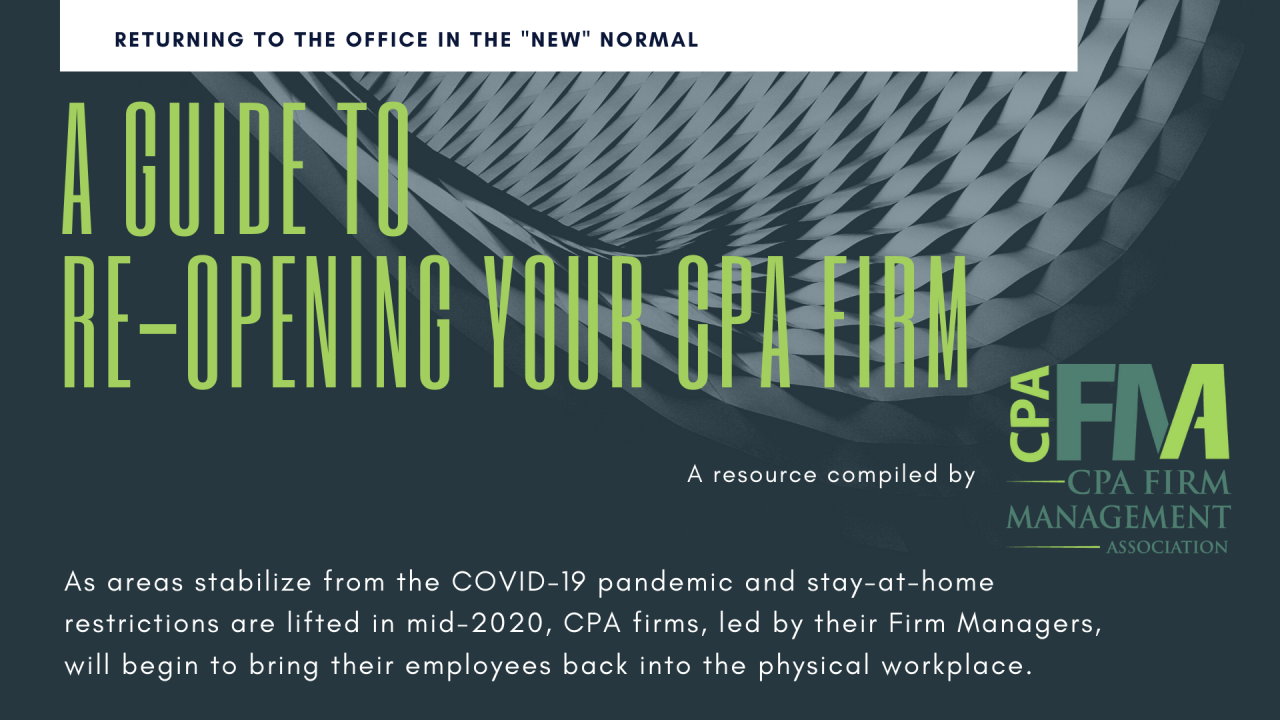 A Guide to Re-Opening Your CPA Firm Released
The CPA Firm Management Association (CPAFMA) released of its guide,
A Guide to Re-Opening Your CPA Firm
in May
.
Compiled by firm managers, this guide provides recommendations to prepare your firm for the "new normal" when it comes to returning to the office. Over the next several weeks and months, as areas stabilize from the COVID-19 pandemic and stay-at-home restrictions are lifted, firms will continue to bring employees back into the physical workplace.
As firms welcome back employees, invite clients to their offices, work in client offices and become comfortable again in their own space, a handful of primary focus areas will be applicable to nearly every CPA firm, whether they have their own building or lease their space. From large firms to small ones, from those with one location to those with several - each in their own way will be focused on:
1. Preparing the building: cleaning plans, pre-return inspections, HVAC and mechanicals checks
2. Preparing the talent: mitigating anxiety, policies for deciding who returns, employee communications
3. Controlling access: protocols for safety and health checks, building reception, shipping and receiving, elevators, visitor policies
4. Creating a social distancing plan: decreasing density, schedule management, office traffic patterns
5. Reducing touch points and increasing cleaning: open doors, clean desk policy, food plan, cleaning common areas
6. Communicating for confidence: recognize the fear in returning, communicate transparently, listen and survey regularly
While most people are aware of and practicing physical distancing, how this will look within the firm's physical setting is still a work in progress. This guide addresses considerations for preparing the firm on multiple fronts and will provide the firm's leadership with a strategy and means to re-open successfully. It is critical for firms to not only re-open correctly but to look at plans to deal with a possible second wave of the virus or future pandemic.
At present, many firms have fluid plans to reopen their offices as the pandemic abates with an ultimate goal of keeping all employees healthy and safe. CPAFMA is providing this support to aid firms in their decision making and preparations. This guide along with direction from local, state and federal agencies and organizations will help firms determine the necessary steps and resources needed to safely welcome their employees and clients to their offices.
A return to normalcy in accounting firms and in our communities is far off, and 'normal' may never look like it did prior to the COVID-19 pandemic. However, even as the future is uncertain, this guide provides firms a roadmap for resuming operations while minimizing risk as much as possible.
The guide, A Guide to Re-Open Your Firm, is available to members in Connect.