Leadership Institute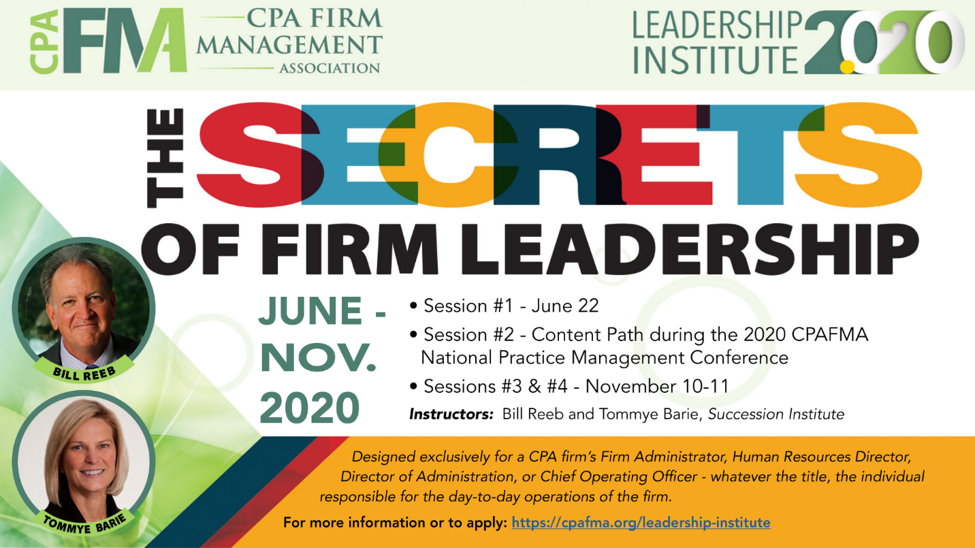 The Secrets of Firm Leadership, CPAFMA's Leadership Institute 2.0 will kick-off at the 2020 CPAFMA National Practice Management Conference. The deadline for applications is February 15, 2020.
Firm managers are called to be leaders – by the best traditions of the accounting profession, by standards of professional responsibility, and by the expectations of the communities in which they work and live. And yet, until recently, there has been little attention given to leadership training for those responsible for the day-to-day management of CPA firms as they enter the profession and begin to develop the skills necessary for their success and the success of their firms.
In an effort to prepare emerging leaders for this calling, the CPAFMA is providing a leadership training program in cooperation with Succession Institute. The CPA Firm Management Association provides leadership training to 20 professionals through its Leadership Institute, which began with the inaugural class in 2017.
Mission
The mission of the Leadership Institute is to help firm managers become effective leaders in their communities, including the accounting profession, their firms or other workplaces, other organizations with which they are associated, their local, state, national or even international communities, and any other environments where professionals regularly have calls or opportunities for leadership.
General Program Description
The Leadership Institute provides an intensely interactive and participatory leadership training program. The 20-firm manager class size is designed to facilitate interaction and an intimate learning environment. Unlike some other association-sponsored leadership programs, this program will not emphasize substantive information about the profession. Instead, the goals of the program are to help emerging leaders to:
Increase personal self-awareness, including strengths and areas for development;
Develop and refine leadership skills, including inspiring confidence, creating a clear and compelling vision, building trust, communicating effectively, and enhancing team performance;
Improve their ability to influence others; and
Use the leadership skills they learn in order to "make a difference."
It is expected that graduates of the program not only will have become better leaders, but also will have become better CPA firm practice managers.
Eligibility for Participation
To be eligible to participate in the Leadership Institute 2.0, you must:
Be a member of the CPA Firm Management Association (CPAFMA)
Provide a letter of recommendation from another member of the firm who knows you well and can vouch for your aptitude and potential for leadership (such as a mentor, supervisor, partner, coworker, or colleague);
Commit to attend ALL sessions (see schedule below), and obtain the commitment of your employer, if any, to support your participation and attendance (graduation from the program will require attendance at ALL sessions, including the 2020 National Practice Management Conference); and
Submit your application with all accompanying documents to the CPAFMA no later than February 15, 2020.
Selection Process
Participants will be selected from the eligible applicants, taking into account degree of interest and commitment, aptitude for leadership, and diversity of the class (including diversity in geography, practice environments, personal backgrounds, and experience). Because of the small class size and the anticipated large volume of applications, many well-qualified applicants will not be selected for a given class, but it is hoped that many of them will reapply for subsequent classes in future years. Selection of the 2020 class is expected to be completed by the end of February 2020.
Dates, Times and Locations
The course of training will be in four sessions as follows, with some activities between sessions that will not involve travel or specific scheduling commitments (times are subject to change):
Session #1 – Tuesday, June 23, 2020 in Sarasota, Florida (8 hours)
Situational Leadership in a Day – Instructor Tommye Barie
Leadership Behavior and Leadership and Readiness
Managing People and Developmental & Regressive Case Studies
Session #2 - Content Path During the 2020 CPAFMA National Practice Management Conference – June 23-26, 2020 in Sarasota, Florida (6 hours of dedicated sessions in addition to the full conference)
Example of Sessions within the Content Path (subject to change):
Accounting in Extraordinary Times
What is happening within the profession?
Key initiatives the profession is focusing upon.
Management and Leadership
Ideas to help you effectively implement your role.
Cover commonly accepted ideas that have outlived their usefulness.
Communication Skills
Learn how to improve your listening skills
Enhance your communication skills to become more of an effective leader, manager and change agent.
Emotional Intelligence and Conflict Management
Better leverage your emotional intelligence
Learn how to management conflict
Planning and Life Management (Getting Unstuck)
View of the choices you are making regarding your career and personal life.
Tools and concepts to help create clarity re what is important to you.
Sessions #3 and #4 – November 10-11, 2020 in Fort Worth, Texas (16 hours)
CPA Firm Best Practices – Instructors Tommye Barie and Bill Reeb
Management and Leadership
Ideas to help you effectively implement your role.
Cover commonly accepted ideas that have outlived their usefulness.
Accountability and Assertiveness
Discuss the necessary elements required to create accountability.
Learn to craft your expectations with greater clarity and less ambiguity.
Staff Development – Building Your Firm Better, Faster and Stronger
Creating the right organizational hierarchy and expectations
The difference and differentiating between performance and developmental management and expectations
Succession Planning fundamentals
Review foundational areas necessary to developing a robust succession plan
Identify common disconnects between your current succession plan and this best practice review
Managing Change
How successful organizations implement change.
Cover tips to help you stack the odds in favor of successful change management.
Instructors
CPAFMA has partnered with the Succession Institute, a management consulting firm with offices in Texas, Colorado, and Florida. The firm provides a wide range of management consulting services to clients located throughout North America with a purpose of facilitating the long-term success of their clients.
Succession Institute serves a varied client base because of the diverse skill sets and experiences they are able to bring to the table. Industry concentrations include the CPA profession and the construction industry. While the name of the company implies a focus on succession, it is much more than that. Succession Institute, LLC was formed to provide a higher level of support in a broad range of consulting services, including organization development services.
At the Succession Institute, they believe that there are core, foundational principles to follow that will help professionals successfully and profitably manage their business and their people. And by following these, organizations are positioned to grow, prosper, seamlessly transition to new leadership, and positioned to sell at above-average market prices.
Instructors for the CPAFMA Leadership Institute 2.0 will be Bill Reeb, CPA, CITP, CGMA, Co-Founder and CEO, Succession Institute, LLC and Tommye E. Barie, CPA, Senior Consulting Shareholder, Succession Institute, LLC.
Tuition and Expenses
Tuition is $749, which is payable prior to the first session and is nonrefundable. Note that the tuition covers only a small portion of the costs of the program; the Association supports the program.
Tuition includes all program materials and meals during program sessions. Participants are responsible for their own transportation to and from sessions and any meals and overnight accommodations other than those specifically covered. Participants must also register for the 2020 National Practice Management Conference.
Application Deadline: February 15, 2020
Applications can be submitted online from the CPAFMA website.
Further Information
For further information, contact Kim Fantaci, CPAFMA President (kim@cpafma.org or phone 937-222-0030)