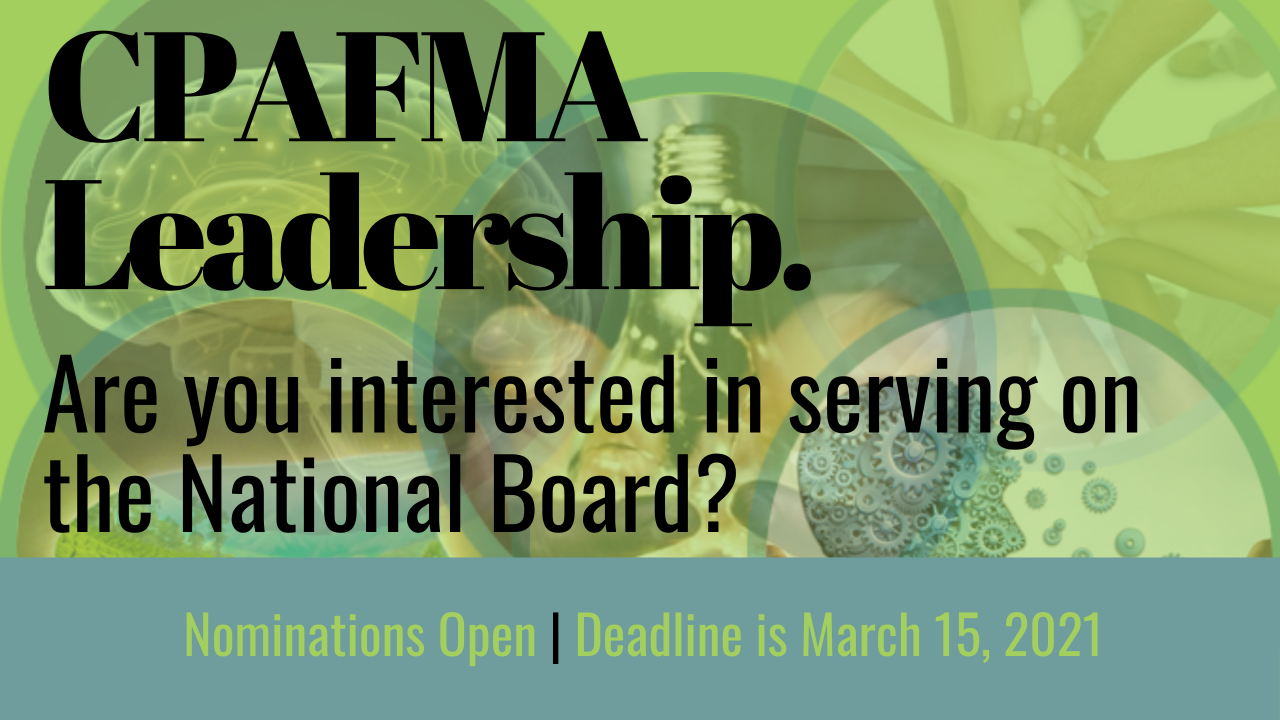 CPAFMA Accepts Nominee Resumes for 2021-2022 National Board
Are you willing to step forward as a leader in the profession and join the CPAFMA National Board of Directors? Do you know a CPAFMA peer who would be perfect for this important role? The CPAFMA Board of Directors is seeking qualified candidates to be considered for Board service for the 2021-2022 year. If you and/or another person responsible for the day-to-day management of your firm have a commitment to the organization and to the profession and are willing to invest some time and energy in helping to make a difference, please complete the Association's Nominee Resume and submit it by midnight local time on
March 15, 2021
. This application should be completed by the individual who would like to be nominated.
IMPORTANT FACTS ABOUT BOARD SERVICE
Candidates must be a CPAFMA member in good standing.
Directors are elected for a two-year term with up to two one-year renewals and the opportunity to move into officer positions after one year.
There are up to four separate one-and-a-half day, in-person Board meetings a year (January, May, August and November) with a one-hour meeting in conjunction with the National Practice Management Conference. The Board also conducts several virtual meetings throughout the year, one-hour in length. Due to Covid-19, travel to meetings has been modified.
Estimated 4-5 hours per month on average time commitment for CPAFMA Board of Director members outside of travel to in-person Board meetings and the National Practice Management Conference.
CPAFMA pays for travel and accommodations for the up to four in-person Board meetings each year. Travel and accommodations for the National Practice Management Conference are the responsibility of the Board member.
The Board term begins July 1, 2021. Board member-elects are encouraged to attend the 2021 National Practice Management Conference, June 8-10 in conjunction with the AICPA ENGAGE either in-person or virtually.
For more information or to submit your nominee resume, click here.