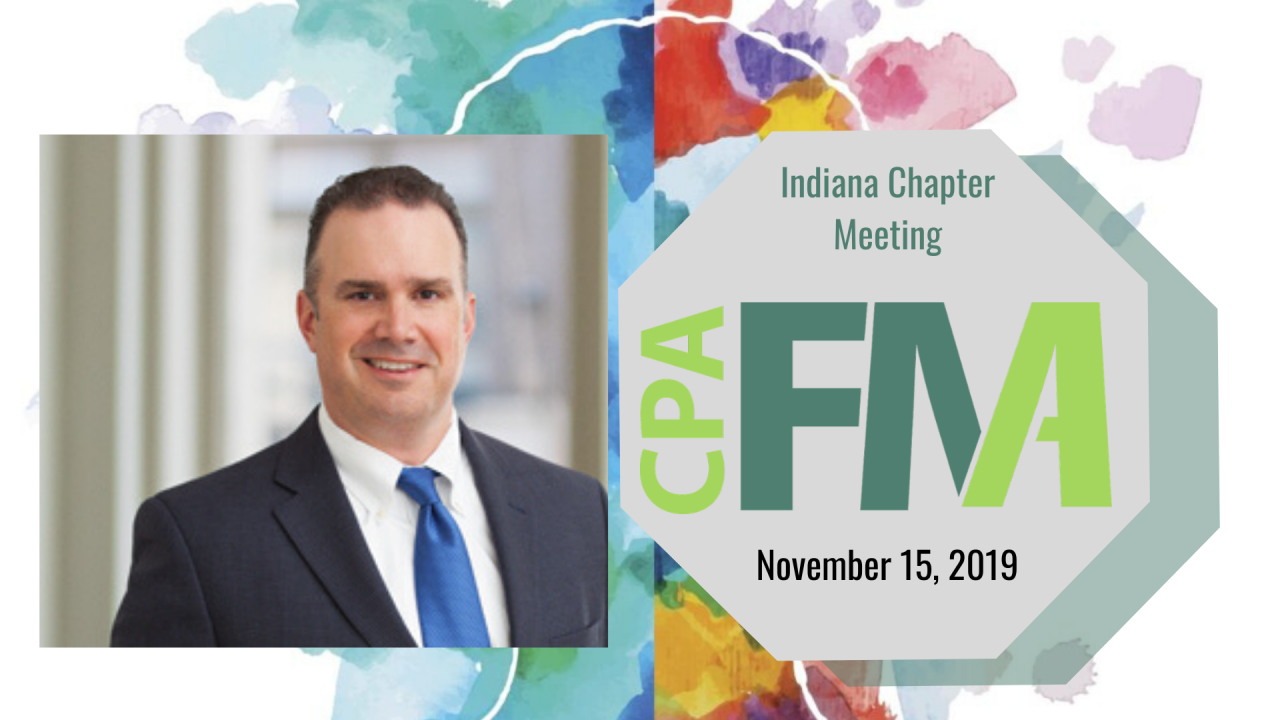 Indiana Chapter Meeting: HR Law Updates
November 15, 2019 9:00am - 1:00pm
Location Information:
Indiana CPA Society
900 East 96th Street, #250 (Boardroom)
Indianapolis, IN 46240
United States

Cost(s): $45.00 Members or Alternate Employee / $45.00 Non-Members / $0.00 First Time Attendee
The Indiana Chapter will be hosting HR Law Updates on November 15, 2019 from 9:00 AM - 1:00 PM (approximately) at the Indiana CPA Society offices. The program will include not only the presentation and program by Nathan Baker, Partner with Barnes & Thornburg, LLP but lunch and a roundtable session.
Nathan has litigated cases in multiple jurisdictions covering the gamut of federal and state employment issues, including wage and hour investigations and audits, matters before the EEOC and state civil rights agencies, court actions alleging discrimination, harassment and wrongful termination, as well as matters involving the ADA, ADEA, FMLA and ERISA. Given the ever-changing landscape of employment law, Nathan emphasizes proactive, prevention-driven counseling designed to mitigate and avoid potential problems before they arise. He is sensitive to his client's specific needs when helping them navigate the often murky waters of managing a workforce.
Nathan works together with his clients to chart effective and efficient strategies unique to their situations in all types of labor relations challenges. His experience includes representing management in union-free training, arbitration hearings, unfair labor practice charges before the National Labor Relations Board (NLRB), and navigating clients through strikes and lockouts. Nathan also represents employers in collective bargaining negotiations and in resisting union organizing attempts.
Moreover, Nathan has also trained many employers with regard to their practices, policies and general handling of workforce relations. He has drafted and edited employee handbooks and employment agreements, and is a regular speaker at events and seminars hosted by clients, human resource, business and other professional groups and associations.
Nathan takes significant pride in his role as counselor. His dedication is manifest in a personal commitment to being responsive and ensuring his client's goals drive the legal agenda — as opposed to vice versa. Nathan works closely with clients to ensure they have the necessary tools to address the legal challenges they face from an operational standpoint and business perspective.
Nathan was born and raised in the Midwest; however, his practice allows him the opportunity to serve clients from coast to coast and many points in between. He has represented employers from a wide variety of industries and professional sectors such as manufacturing, automotive, financial and banking, retail, utilities and medical, as well as foreign clients with U.S. facilities. He also works with public employers and has assisted towns, cities and counties with their labor and employment matters.
REMINDER: Roundtable discussion will follow the speaker's presentation.
Please forward your topics for the Roundtable Q&A now OR bring to our meeting.
Membership fees cover meeting costs. An alternate employee may attend in place of a chapter member. Guests are welcome to attend one meeting for free; otherwise, members and non-members may register and pay our $45 meeting fee by registering online or by forwarding a check payable to Indiana Chapter of CPAFMA addressed to: Jeremy Cole, CPA, c/o Somerset CPAs, 3925 River Crossing Pkwy, Suite 300 Indianapolis, IN 46240.
RSVP by November 8th, 2019.
If you want to attend the meeting but can't make it in person, we now offer meeting audio attendance via ZOOM.
Join Zoom Meeting
https://zoom.us/j/9372220030
Dial-in: +1 929 436 2866 US
Meeting ID: 937 222 0030
CURRENT OFFICERS
Please consider offering your experience and talent to our chapter through board leadership or as a committee chairperson/member. We seek new insight and vision for aligning our chapter with the mission of the CPAFMA organization.