BDO Alliance Workshop & Networking Event
June 10, 2019
More Details
SoCal Chapter: 2019 CPAFMA National Conference Recap & Chapter Roundtable Meeting
June 27, 2019
More Details
MAPCast: IT Infrastructure Update with an Optimization Focus
June 20, 2019
More Details
MAPCast: Ask The Expert
June 25, 2019
More Details
MAPCast: The Accountants Exposure To Litigation In Failure To Detect Fraud
June 27, 2019
More Details
MAPCast: Lean CPA Firm Administration
July 2, 2019
More Details
MAPCast: Transitioning from Compliance to Consulting
July 9, 2019
More Details
Northeast Chapter Summer Outing: Boston Harbor Cruise
July 26, 2019
More Details
Michigan Chapter Meeting: National CPAFMA Conference Highlights
August 1, 2019
More Details
Missouri Chapter: Roundtable Discussion
August 15, 2019
More Details
MAPCast: Accounting Firm Data Security Risks & Best Practices
August 27, 2019
More Details
Missed a MAPCast?
PODCast archives are available.
Order Now
BDO Alliance Workshop & Networking Event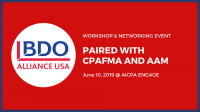 June 10, 2019 12:05pm - 6:00pm

| | |
| --- | --- |
| Location: | MGM Grand Las Vegas |
| Contact Name: | Joyce Arthur, PAFM |
| Contact Phone: | (407) 244-7179 |
| Contact Email: | jarthur@bdo.com |
| Cost(s): | $20.00 BDO Alliance Member |
BDO Alliance USA, paired with the CPA Firm Management Association and the Association for Accounting Marketing, will be hosting a workshop for their members on June 10th at the MGM Grand Las Vegas just prior to the start of the AAM Summit and CPAFMA National Practice Management Conference, which have partnered this year with the AICPA's ENGAGE Conference.
Exclusively designed for BDO Alliance USA members attending these events, this half-day session will offer presentations and roundtable discussions on a variety of topics specific to marketers and firm administrators. Cost of attendance is $20, which includes the lunch, workshop and cocktail reception.
When making travel arrangements, please note the following agenda:

• 12:05 – 1:30 pm: BDO Alliance Joint Working Lunch
• 1:30 – 2:45 pm: Ian Bremmer Keynote (need Monday ENGAGE pass to attend)
• 3:00 – 5:00 pm: BDO Alliance/CPAFMA Workshop
• 3:00 – 5:00 pm: BDO Alliance/AAM Workshop
• 5:00 – 6:00 pm: BDO Alliance Joint Cocktail Reception

Note that all events above (except for the Keynote) are for BDO Alliance USA members only, or by special invite.

Save this date and register today! It will be a great opportunity for you to meet and connect with BDO Alliance USA leadership, AAM and CPAFMA leadership, and other BDO Alliance USA members throughout the country. Specific workshop details and registration will be available soon.
Don't forget to use CPAFMA's promotion code (ENG19CPAFMA) for a discount when registering for the Conference and ENGAGE!
To register, click here or use the registration button below.