SoCal Chapter: "#Me Too in 2019 – New California Employment Laws"
February 5, 2019
More Details
MAPCast: Trends in e-Payments
January 16, 2019
More Details
NorCal Chapter Meeting Conference Recap
January 17, 2019
More Details
Northeast Chapter Meeting
February 6, 2019
More Details
MAPCast: Teaching Firm Economics: Moving Towards Greater Transparency
February 12, 2019
More Details
Indiana Chapter Meeting
February 15, 2019
More Details
Ohio Chapter Meeting
February 15, 2019
More Details
MAPCast: PCI Compliance: Is Your Firm at Risk?
February 20, 2019
More Details
MAPCast: Fixing Feedback
February 26, 2019
More Details
Missed a MAPCast?
PODCast archives are available.
Order Now
2018 CPA Firm Management Association's National Practice Management Conference in partnership with AICPA ENGAGE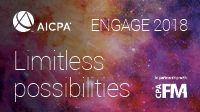 June 11 - 14, 2018 8:00am - 5:00pm

Location:
MGM Grand Hotel & Casino
Las Vegas, NV

Contact Name:
CPAFMA HQ
Contact Phone:
(937) 222-0030
Contact Email:
info@cpafma.org
One Event to Elevate Your Role as Accounting Firm Manager and Exchange Ideas with the Broader CPA Community
Your invitation to an extraordinary experience
This year we are thrilled to be partnering with the American Institute of CPAs for its AICPA ENGAGE event that will bring together more than 4,000 professionals from across the accounting profession.
Besides the exciting new opportunities for CPAFMA with AICPA ENGAGE — like amazing keynote presenters — we will continue to support our "Breakout By Firm Size" sessions, deep dive breakout sessions, our "Evening Out" and the unlimited networking opportunities.
Event highlights
Our 2018 conference at AICPA ENGAGE will help you define a clear path for the future by providing you the latest learning, tools and technological information to keep you on the cutting edge.
Gain knowledge on the most current business management and practice management topics
Explore emerging technologies and how the dramatic shift towards mobile and cloud-based solutions have changed the way business is conducted
Uncover new marketing and business development techniques that can help you better focus on where you want to go and how you are going to get there
More about the 2018 National Practice Management Conference
We custom designed the 3-day event to help you effectively manage your accounting firm, no matter its size. You can expect sessions that range from the beginner to the advanced levels. From the high-level practice management sessions to the smaller breakout sessions geared to specific problem-solving, to informal gatherings designed to facilitate networking and information exchange, the conference has sessions for accounting firm managers with one year of experience to COOs and managing partners with more than 30 years of experience.
The right fit for you
You should attend if you are:
• Responsible for management of an accounting practice
• Responsible for the quality and profitability of your firm
• Supervising and/or training staff in an accounting firm
• Interested in developing a network of outstanding professionals
• Ready to promote your firm in today's marketplace
• New to the profession or an experienced manager
Find details on sessions, speakers and registration here. We look forward to seeing you in Las Vegas in 2018!
All activities including accommodations will be at the MGM Grand Hotel & Casino. Overnight accommodations are between $171-$276 per night depending on the room type selected. The cut-off date for reservations is May 11, 2018. For reservations, click here.
When registering, you will want to register for the 3-day Access Pass (Tuesday thru Thursday) or the All-Access pass if you are planning to attend pre-conference sessions on Sunday or Monday.