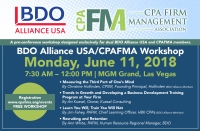 BDO Alliance and CPAFMA Workshop
June 11, 2018
More Details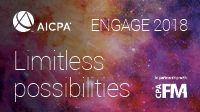 2018 CPA Firm Management Association's National Practice Management Conference in partnership with AICPA ENGAGE
June 11 - 14, 2018
More Details
MAPCast: Retirement Planning: Will I Ever be Able to Retire?
June 19, 2018
More Details
MAPCast: Where are You Exposed? Mitigating Your Firm's Risk of Litigation
June 26, 2018
More Details
MAPCast: Be a Retirement Superhero to Your Clients
July 10, 2018
More Details
MAPCast: Hot Topics for HR
July 18, 2018
More Details
MAPCast: BDO Alliance USA and CPAFMA Connection: Is There a Business Developer Hidden in Your Firm?
July 26, 2018
More Details
MAPCast: Beyond Technology: What Your Team Needs to Thrive as a Firm of the Future
August 15, 2018
More Details
MAPCast: Engaging Next Gen Clients with Convergence Coaching and BDO
August 28, 2018
More Details
Missed a MAPCast?
PODCast archives are available.
Order Now
About CPAFMA Baltimore
The Baltimore Chapter of CPAFMA is an organization benefiting firm administrators, directors of administration, administrative partners, and others. The association provides valuable information on accounting firm administration and serves as one of the profession's premier resources. It offers forums on issues such as marketing, time management, the administrator's role in peer reviews, personnel law, technology and much more. The National Conference is held in a different city each year, usually during the third week of June. The association also offers regional conferences in the fall and boasts 15 regional chapters across the country, each with their own programs.