Join us Deep in the Heart of Texas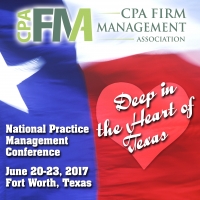 Published on February 26, 2017
Join us at the 2017 CPA Firm Management Association's National Practice Management Conference, June 20-23 in Fort Worth, Texas.
The 2017 conference will help you define a clear path for the future by providing you the latest learning, tools and technological information to keep you on the cutting edge. Gain knowledge on the most current business management and practice management topics. Explore the emerging technologies, and how the dramatic shift towards mobile and cloud-based solutions have changed the way business is being conducted. Uncover new marketing and business development techniques that can help you better focus on where you want to go, and how you are going to get there.
Deep in the Heart of Texas is where it will take place. The event has been exclusively designed to help participants professionally manage accounting firms of varying sizes. The two-and-a-half day educational extravaganza and exchange has something for everyone involved in accounting firm management. The event includes sessions that range from the beginner to the advanced levels. From the high-level practice management sessions to the smaller breakout sessions geared to specific problem-solving and informal gatherings designed to facilitate networking and information exchange, the Conference has sessions for accounting firm managers with one year of experience to COOs and managing partners with over 30 years of experience.
CPAFMA continually enhances the program format to maximize networking and discussion time for attendees.
The overall program is designed to enhance the skills of even the most experienced firm manager through a wide variety of top-notch and timely sessions led by professionals and experts from around the country. The event also features the ACE Award, the profession's most coveted award given for achievement, commitment, and excellence to the profession.
You should attend if you are . . .
• responsible for management of an accounting practice.
• responsible for the quality and profitability of your firm.
• supervising and/or training staff in an accounting firm.
• interested in developing a network of outstanding professionals.
• ready to promote your firm in today's marketplace.
• new to the profession or an experienced manager.
In the past, the Conference has attracted professionals representing firms with 4 to 1,000 employees. Whether you are new to the profession or someone with a great deal of experience, you will leave the Conference with skills and resources you never dreamed possible, ones that will help you and your firm prosper and grow in challenging times.
Discounted registration fees are available for multiple registrants from the same firm as well as PAFMs and those participating in pre-conference workshops.
To register, click here.