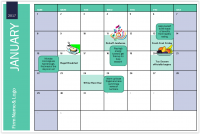 Published on January 18, 2017
The PCPS 2017 Busy Season Fun Calendar provides ideas for showing staff that their efforts are appreciated throughout busy season. Add your firm/company logo to this Busy-Season-Calendar, post it in your office and start having fun!
This PCPS 2017 Busy Season Fun Calendar is an example of the turnkey tools and solutions PCPS delivers. PCPS is an add-on firm membership section within the AICPA and is a partner of CPA Firm Management Association. A PCPS firm membership at only $35 per CPA, up to a max of $700 per firm, is a great investment for the wealth of resources. Find out if you are already a PCPS member or take a quick tour to learn more.
Read More >>